Link your WooCommerce webshop to your Moneybird account, and synchronize all payments to an invoice in Moneybird automatically! With WooCommerce Moneybird all your sales will be entered automatically in Moneybird. Additionally you can let Moneybird send invoices to your customers. Choose as of which date you want your past sales to be synchronized. This way you can also start using this plugin halfway in the current year. Just let the plugin synchronize all current payments in Moneybird!
Supports: WooCommerce subscriptions, custom Moneybird invoice, refunds, Moneybird products, and much more!
Created by the developers of Really Simple SSL, this plugin incorporates our experiences with how to make a plugin easy to use, and you can count on the same great support.
All features of WooCommerce Moneybird:
Send invoices form Moneybird
You have three options:

Create Moneybird invoices as concepts. Then you can verify and send them yourself
Create Moneybird invoices, mark as sent, but do not send by email
Create Moneybird invoices, mark as sent and email the invoice to the customer
You can choose to send an .ubl attachment so your customers can automatically import the invoices in their bookkeeping system. You can choose the style that you want to use from the Moneybird invoice styles you have created.

Supports recurring payments with WooCommerce subscriptions
Do you use recurring payments? No problem. WooCommerce Moneybird can handle recurring payments just as easily. Billing periods are mapped to your Monebird invoice.
Front-end invoice download
Customers can download their invoices from their WooCommerce account page.
Intelligent tax mapping for all countries in your tax list
Map taxes in Moneybird to taxes you are using in WooCommerce for each country. Supports intelligent use of VAT (zero rate will be applied) or not VAT users (tax rate of the country will be applied).
WooCommerce product variations can be mapped to your own Moneybird products
Backward synchronizing of sales
Synchronize your existing payments to Moneybird. This way you can start using Woocommerce Moneybird halfway the year, and synchronize all invoices from that year. If you have email sending from MB enabled, payments from before the plugin activation date will not result in emails being sent. The date used to start syncing is an option in the settings.
Use dedicated workflow for your downloads
This way you can use a different language for your invoices and emails for you download products
Select custom styled invoice for your downloads
You can select different branded invoices you define in Moneybird for your downloads
Use Moneybird products and categories
You can choose to categorize using Moneybird products, or categories. If you choose to categorize by product, you can select a product for each download. If you enable variable pricing, you can choose a product for each variation if you want. If you choose categories, you can either select a category per download, or use let the system use a default category
Map order fields and customer fields to custom Moneybird fields
Set custom email field to Moneybird email
Automatically handle refunds
A refund will result in a credit invoice in Moneybird, based on the original invoice.
Quick view of corresponding invoices, overview of sync status
In the payments overview, you can easily see which payments have been synchronized, and click to see the Moneybird invoice. You can sync a single payment by clicking the "sync" button.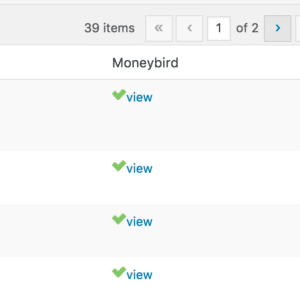 Unique to WooCommerce Moneybird is the way in which taxes are handled. You can easily map your Moneybird taxes to all countries you are shipping your downloads to.
30 days money back guarantee!
We want you to be happy with your purchase! If you're not, you can let us know within 30 days on the contact page, and we will refund you the money.
Installation is easy:
Install the plugin like any other WordPress plugin
Follow the steps in the admin notification to link to Moneybird
Start syncing!
Need any help? Get fast support!
What is included with this plugin:
A license that allows to install and use Woo Moneybird on a site for an unlimited period of time
Continuously developed: you get all new features that will be added in the future
One year updates and support. To continue to receive support and updates, licenses must be renewed after one year (not compulsory)
The license is renewed yearly at 30% discount and can by cancelled at any time in your account